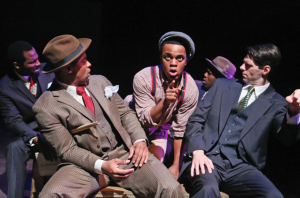 The Chicago Children's Theatre's newest performance "Bud, Not Buddy" is now running until February 24, 2013 at the Ruth Page Center for the Arts, at 1016 N. Dearborn Street, in Chicago.
This outstanding show, based on the book by Christopher Paul Curtis, follows the heartwarming, funny, and unforgettable journey of a young African-American orphan as he searches for his father. Clues kept in a suitcase lead him to adventures in Depression-era Michigan, where he finds community among a group of jazz musicians and, ultimately, an unexpected sense of home.
On Friday, January 18, I attended the opening performance with my 9 year old son and we absolutely loved it. I can't stress enough how much this show far exceeded both of our expectations. It was simply outstanding.
The show is full of humor, suspense, wit, and jazz. My son's favorite parts of the show were Bud's rules for becoming a better liar and how the characters moved in and out of speaking in first person and third person.
Although there are a lot of laugh out loud moments, there are other moments that are more sobering and sad. Tears flowed down my face when Bud imagined his deceased mother reading a bedtime story to him. Overall, however, the message is hopeful, uplifting, and very inspiring.
I would highly recommend Bud, Not Buddy for children 8 and older. If you have little ones, I would recommend skipping this play and waiting until April for The Elephant & The Whale, which is ideal for all ages.
The complete performance schedule for Bud, Not Buddy is Tuesday and Wednesday at 10 a.m.; Thursday at 10 a.m. and 6:30 p.m. (including pre-show pizza party at 5:30 p.m.); Friday at 10 a.m. and 6:30 p.m. (including post-show party); Saturday at 2 p.m. and 6 p.m.; and Sunday at 11 a.m. The only exception is no 10 a.m. performance on Saturday, Feb. 2. Tickets are $26 for children, $36 for adults. Thursday evenings tickets are $20 for dinner and show. Friday evening tickets are $25 for show and party. To purchase, visit chicagochildrenstheatre.org or call (872) 222-9555. For discounted school, scout, playgroup, extended family and other group rates, visit GroupTix.net or call (773) 327-3778.
Disclosure: I received complimentary tickets to Bud, Not Buddy. Opinions are 100% my own. Photos courtesy of Chicago Children's Theatre.
Category: Reviews