Our Four Seasons Hotel Chicago Getaway
My family has fallen in love with the Four Seasons Hotel Chicago. Let me explain…
For years my family has gone away on vacation to escape our regular routines and our day-today way of life. This year, we decided to do something different. This year we decided to vacation close to home and enjoy the many amazing getaway opportunities right here in Chicago. If you are watching your budget by saving money on plane tickets, but still want to unplug, unwind, and vacation with your family, then I highly recommend scheduling a local mini-vacation right here, close to home.
If you want the ultimate kid-friendly luxurious local escape, the Four Seasons Hotel Chicago is the perfect destination.
My family stayed at the Four Seasons Hotel Chicago over President's weekend and all four of us never wanted to leave. From the moment we walked into the lobby a wave of r-e-l-a-x-a-t-i-o-n pour over us. It was truly magical and we all felt we were treated like royalty.
Kid Friendly Four Seasons Hotel ChicagoWhen we arrived in our beautiful room, we found a breathtaking view of Lake Michigan and four luxurious bathrobes (2 adult sizes and 2 kid sizes). I immediately got comfy and put on my bathrobe, but to my surprise, so did everyone else.
I cannot begin to express how relaxing it was for the four of us to be chilling out in super-comfy Four Seasons Hotel bathrobes together. It sounds silly, but these bathrobes brought a deep sense of peace to our family. There was harmony – there was a balance to the Force – when we were in these bathrobes.
After 45 minutes of pure relaxation, we had a knock at our door. The kids were surprised to have afternoon snacks delivered to our room. We re-energized with milk and cookies, popcorn, and a fruit and nut tray.
Yes, We Were in Heaven
We then changed into our swimsuits and headed to the Four Season Hotel's indoor pool. The water a little cold for me, but my boys were too excited to notice. There were pool toys and noodles for my kids to use, which led to hours of creative play in the pool. I was greeted with luxury again at the pool with fresh water, out-of-this world big comfy towels, lounge chairs, and a circular skylight.
On the way back to our room we stopped at the bright cheerful playroom. I loved the décor, but my boys thought it was too babyish and too girly. In general, my kids were too old for the playroom, but we did have fun playing a few rounds of foosball.
We had dinner at the Allium, an upscale American style restaurant located in the Four Seasons Hotel. I loved how their menu featured sustainable ingredients from local famers. Although it was the Four Seasons and fancier than most restaurants my family goes to, it was extremely kid friendly. My children had chicken fingers and my husband and I ordered flatbread, Walleye, and Brick chicken. It was a very relaxing delicious dinner, but if you are watching your budget, you may want to find a less expensive restaurant to go to during your stay.
On the way back to our room, we stopped by the concierge desk, which is located in the Four Seasons Hotel's lobby, to pick up a complementary kids-friendly DVD so we could have a family movie night in our room.
If you have noticed, my family never left the Four Seasons during our stay. We didn't stay there for its convenient downtown Chicago location – we stayed there for an ultimate escape. We never left…and we never wanted to leave.
We received another knock at our door around 30 minutes into our movie (Plants vs. Aliens). Again, to my children's surprise, we were greeting by the Four Season's Ice Cream Man. This was So Much Fun! My little one was so excited that he actually asked me to pinch him.
With the help of the Ice Cream Man (well, actually, the Ice Cream Women), my boys created ice cream sundaes with chocolate and vanilla ice cream, chocolate chips, gummy bears, sprinkles, and chocolate syrup. My husband and I splurged too. Num…num!
Needless to say, both my boys fell asleep with smiles on their faces.
It has only been 6 hours since we arrived at the Four Seasons and we all felt like we had been there a week. It was truly one of the most relaxing experiences of our lives.
We woke up the next morning to a lavish in-room breakfast (in our bathrobes of course) and then headed to the pool for one more swim.  None of us wanted to leave the Four Seasons. We knew something magical had happened there. We knew it was a 24 hour adventure we would never forget.
So, if you are not going away for spring break this year, but really need a kid-friendly vacation…I highly recommend escaping to the Four Seasons Hotel in Chicago (even if it's just for one night) for a guaranteed relaxing, fun, and luxurious getaway.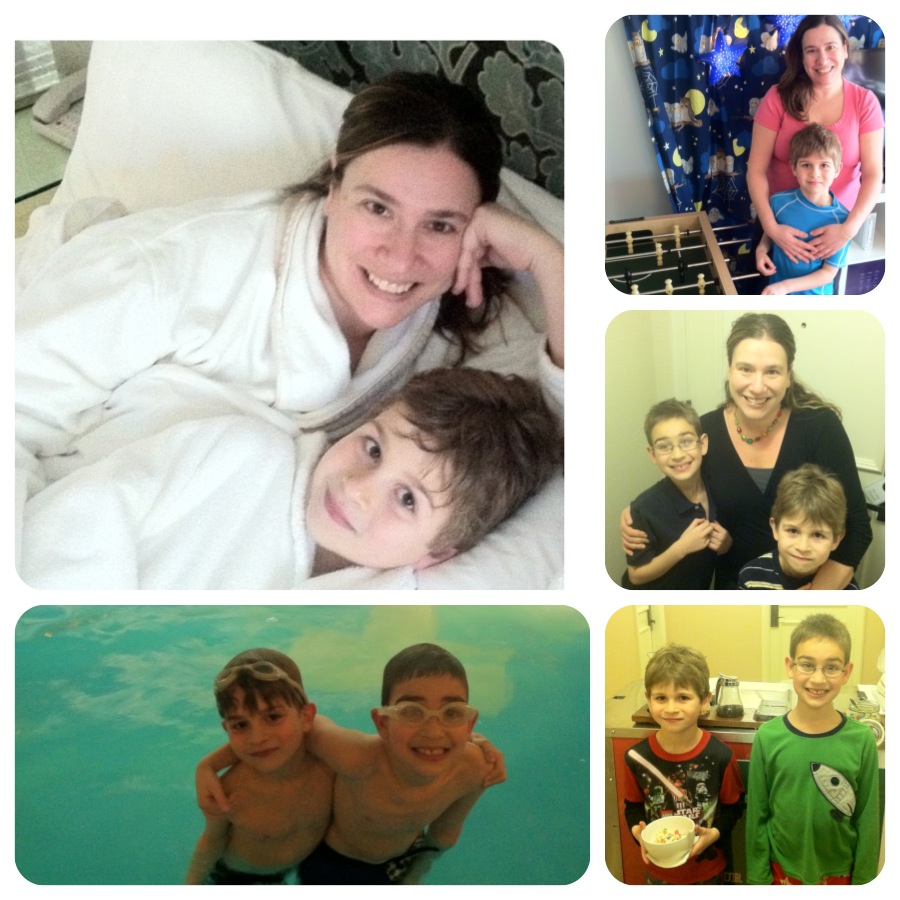 Disclosure: As is common in the travel and tourism industry, I received complimentary accommodations and meals at the Four Seasons Hotel. Opinions are 100% my own. Top photo provided by the Four Seasons Hotel Chicago.
Category: Reviews