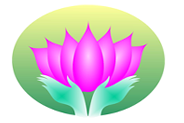 I am a lover of all things related to spas, relaxation, and self-awareness, so I was thrilled to learn about the Full Bloomed Lotus Center for Self-Awareness, which is located at 1217 Washington Avenue in the heart of Wilmette.
Their mission at Full Bloomed Lotus, is "to inspire and to help people accept and work through their human limitations and challenges on the one hand, yet reclaim their divine identity on the other and to integrate both fear and faith to live a truly authentic life".
I love that! As a blogger, I often write about my own body, mind, spirit challenges and as a spiritual being living on Planet Earth, I spend a lot of time contemplating my divine self, letting go of my humanly fears, and striving to live my most authentic life. So naturally, I immediately felt connected to this north shore Center for Self-Awareness.
In addition to offering meditation, yoga, and ongoing self-inquiry classes, Full Bloomed Lotus recently opened their new Center for Healing that provides hands-on Reiki healing services.  I recently visited Full Bloomed Lotus and received a one hour Reiki session from Reiki Master Laurie Goldstein. The Healing Center was tranquil and I fell into a deep calming state as soon as my energy healing session began.
After my Reiki session, I sat down with Laurie Goldstein to learn more about Reiki and her healing services.
1. Can you tell me what I just experienced? What is Reiki and what exactly did you do during my session?
Laurie Goldstein: Reiki is a healing technique that increases physical, emotional and mental balance.  It boosts the body's natural ability to heal itself.  What you just experienced was your body opening up to the flow of this healing energy and allowing it to unblock, release and balance your state of well-being.  During the session I placed my hands in various positions on or above your body. Your body then pulled in the exact amount of Reiki that was perfect for you.
2. How does Reiki reduce stress and increase relaxation?
Laurie Goldstein: Reiki is self-guided so that each person will draw in the energy in exactly the way that is right for them. As a practitioner I am not guiding the Reiki to where I think it needs to go. Rather I am a conduit for the healing effects of Reiki to go where it is needed. The client's body will intuitively attract and pull in the Reiki to wherever it is needed. In this way each Reiki session is automatically tailored to each client's particular needs.
3. What does "Life Force Energy" mean and how is it related to Reiki?
Laurie Goldstein: Life Force Energy is the "ki" in "Reiki" It is the same as the "chi" in Tai-chi and the "qi" in Qigong. It is what causes each cell in our body to be alive.  When our life force energy is low or blocked we are susceptible to disease and emotional distress. A balanced flow of Reiki helps to increase our physical, emotional and mental health.
4. How long have you been working with Reiki and what training have you had?
Laurie Goldstein: Five years ago I was a busy suburban mom who had never heard of Reiki or energy healing and never would have imagined I'd land in this field. However, I signed up for an introductory meditation class at Full Bloomed Lotus where we were encouraged to try to meditate everyday. One day while meditating I unexpectedly experienced a transformative awareness to learn energy healing. This awareness felt as if someone had put a thought into my head and it came with a feeling overflowing joy. At that time I had no idea what energy healing was and had to Google it to find out. Since then I have trained with five different teachers locally and nationally through the Mastership and Karuna Reiki® levels.

I opened my private practice, Reiki Rising, two years ago and I also offer Reiki sessions to the general public at Full Bloomed Lotus Center for Healing in Wilmette.  My services are also available to residents of The Mather in Evanston within their facility. In addition I offer volunteer Reiki sessions for patients and their families at Midwest Palliative and Hospice CareCenter.

And yes, I am still a busy suburban mom with carpools to drive and dinners to cook but with a lot less stress thanks to the flow of Reiki in my life.
5. Why Reiki? Why should someone try Reiki if they have never experienced Reiki before?
Laurie Goldstein: Reiki offers a safe, holistic and non-invasive method to bring healing and balance to your life. It works very well alongside traditional Western medical techniques. The list of Reiki's specific potential benefits is a long one: pain relief, decreased anxiety and depression and a deep overall feeling of calm to name just a few.

Reiki is also simple to learn. The introductory Level 1 class requires a short amount of time and enables individuals to practice Reiki on themselves or others. While it's wonderful to receive Reiki from another person, I encourage interested people to learn Reiki so that they will have access to its healing benefits anytime, anywhere for the rest of their lives. Reiki can be great for calming children. And as a mom of boys I've found that it's another technique for expressing my love for them when my kids don't feel like being hugged or kissed.

On the other generational side of things, Reiki is a wonderful tool to help aging parents. Recently a student of mine told me about her father's unexpected hospitalization and how she was able to assist him with Reiki. She felt immensely grateful that instead of watching him suffer and feeling helpless she could actually bring him comfort.
If you're interested in scheduling a Reiki session, taking a Reiki class, or simply learning more from Laurie, you can contact her via email at laurie@fullbloomedlotus.com or her Facebook page.  You can also schedule a session directly on Full Bloomed Lotus's website.  Laurie's practice is based in Wilmette. If Wilmette is too far a distance to travel, Laurie can refer you to other Chicago Reiki healers.
Disclosure: I received a complimentary Reiki session to learn more about Reiki and Laurie Goldstein energy healing services. Opinions are 100% my own. Photo courtesy of Full Bloomed Lotus.

Category: New Posts