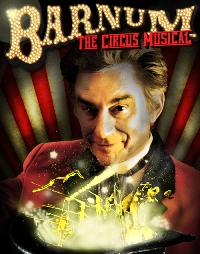 The greatest show on earth – BARNUM – has arrived at the Mercury Theater, and my 9 year old son and I were there to welcome this musical to Chicago with open arms.
Because of the intimate size of the Mercury Theater, I was surprised when I first heard BARNUM was going to be there. My memory of the last time I saw BARNUM (a high school performance back in the early 80s) was BIG. Big cast. Big circus acts. Big elephant. I did, however, enjoy this intimate version of the show with a smaller cast, smaller circus acts, and smaller elephant.  I enjoyed the music, the singing, the circus acts, the colors, the flow of the show.
The cast is led by Chicago native and Broadway, TV, and film actor Gene Weygandt as legendary showman P.T. Barnum, with Cory Goodrich as his wife Charity, and Summer Naomi Smart as the "'Swedish Nightingale" Jenny Lind.
The musical traces the life and loves of colorful Phineas Taylor (P.T.) Barnum. The tale of the American Museum, the smallest man, the oldest woman, the largest elephant and more is told through acrobatics, variety acts, and magic.
When I invited my 9 year old son to attend the show with me, I promised an afternoon of stunning acrobatics, hilarious variety acts, whimsical magic. Unfortunately, from my son's perspective, BARNUM did not deliver. My son was expecting a CIRCUS. He was expecting to be belly laughing. He was truly expecting the GREATEST show on Earth.
So…do I recommend BARNUM? Definitely.
But I do not recommend taking your children. Although the story is about one of the men that created the Barnum and Bailey Circus, it's really not a children's show. There were a lot of adult conversations taking place on stage that my son didn't understand. And during intermission he asked if we could leave.
BARNUM runs at the Mercury Theater through June 16, 2013.  The performance schedule is: Wednesdays at 7:30 p.m., Thursdays at 2 p.m. and 7:30 p.m., Fridays at 8 p.m., Saturdays at 2 p.m. and 8 p.m. and Sundays at 2 p.m.  Tickets range from $25-$59, and are available online at MercuryTheaterChicago.com, over the phone at 773-325-1700, or in person at 3745 N. Southport Avenue, Chicago.
Disclosure: I received a complimentary tickets to this performance. Opinions are 100% my own. Photo courtesy of The Mercury Theater.
Category: Reviews