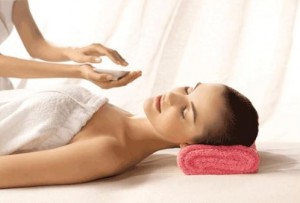 Hidden in the back of the Water Tower Place, on North Michigan Avenue in Chicago, you will find the Elizabeth Adam Salon and Day Spa. This day spa is one of the Gold Coast's hidden gems and they offer one of the best facials in town.
As a member of the Hot Mom Spa Squad, I got to review Elizabeth Adam Salon and Day Spa's signature Stop the Clock Facial. Yes, I know…it's quite a great gig! You may think I'm reviewing spas for a day of bliss, deep relaxation, and glowing skin…but that is only part of why I'm on a mission to partner and review as many spas as humanly possible.
My BIGGER purpose and mission is to inspire other moms to pamper themselves. As Spa Week clearly and beautifully states, "Moms are notorious for cheating themselves out of the ME time they deserve". To me this is simply unacceptable. So I have joined forces with the Hot Mom Spa Squad to spread the message of pampering and wellness. Yeah!
And if you're in Chicago, you are in for one of the best pampering and wellness experiences of your life if you schedule a signature Stop the Clock Facial (with Ada) at the Elizabeth Adam Salon and Day Spa.
The Stop the Clock Signature Facial lasts an amazing TWO HOURS and includes a complete skin analysis and mask recommendation by the skincare specialist. Unlike other facials I have had in the past, my results from the Stop the Clock Facial were not only visible immediately but my skin actually looked better two weeks after I had my facial. This was fantastic because I unfortunately suffer from adult acne that likes to show its ugly head every four weeks based on the cycle of the moon (and my body). So I was amazed when my PMS started to soar two weeks after my facial…and my face was completely clear. This was the first time in YEARS that I did not break out before my period.
This alone moves my review of Elizabeth Adam Salon and Day Spa's signature Stop the Clock Facial from 5 stars to a 6 stars…which is the BEST score I have every given any facial I have reviewed.
With a combination of state of the art light and sound therapy, used to stimulate collagen production and anti-aging peptides, Elizabeth Adam's unique facials are known for recovering skin firmness and elasticity, enhancing moisture levels and evening out skin tone.
After my facial, I quickly understood why Chicago Magazine and Today's Chicago Woman think Elizabeth Adam has the best facials in Chicago.
If you're in the Chicago area and you're looking for a relaxing, luxurious, long last facial, I highly recommend scheduling a Stop the Clock Signature Facial with Ada at the Elizabeth Adam Salon and Day Spa.
I know I'll definitely be back.
To learn more, go to ElizabethAdamSalon.com or contact the spa at 312-944-4311 You can also click here to book a spa treatment online.
Disclosure: As is common in the spa industry, I received a complimentary spa treatment. Opinions are 100% my own. Photo provided by Elizabeth Adam Salon and Day Spa.
Category: Reviews